Merry Christmas And Happy New Year
I'm not going to kid you! Yes, you read it right. We have two pieces of good news would like to share with you. One is that XtrixTV is making a promo to celebrate Christmas and New Year. We have the best IPTV coupons, discounts, and savings for you. Another piece of good news is that the XtrixTV update has improved some features to make it more user-friendly. Heartbeat as action! You can find the detail about the coupon as below:
Coupon Code: NewYear2022
Start Date: 22 Dec. 2021
Closing Date: 4 Jan. 2022
Can Save 5% Off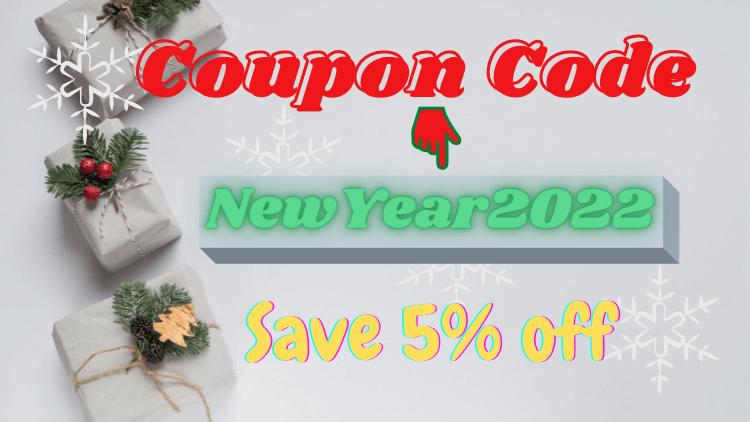 How To Get And Use The Coupon?
It is very easy to get the coupon, you can follow the below step to get it.
#1, Login to your XtrixTV account, then choose the subscription you want to purchase.
#2, Then on the shopping car page, you can find the "Enter Your Coupon Code" column under the order. Please enter the coupon code-"NewYear2022", and click apply.
#3, There will pop up "Coupon Code apply succeed, can save 5% Off!" And you can see that the total price is automatically subtracted from the discount amount.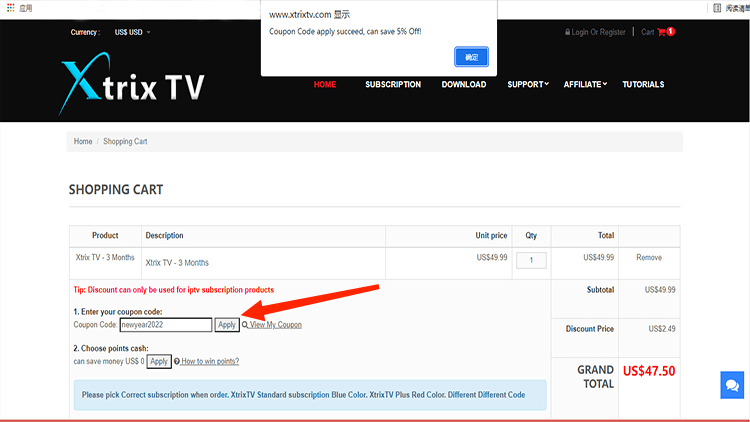 Updates Some Features
This time, XtrixTV has upgraded three features of the 1.2.100 version.
1, Optimized the IPTV activation process. After entering the IPTV activation code, the user can enter the Live screen to watch the program directly without pressing the back button. Previous versions required users to manually go back to the main page and choose to watch Live or VOD.
2, Add a new decoding mode-Exoplayer, plus the previous: hardware, software, vlc hw, and sync, there has five decoding modes now. A variety of decoding modes, watching programs more smoothly without buffering.
3, Updated new operation for FAV(Favorite)group.
Old version to add FAV programs, more trouble, need to find the favorite program in the all channels one by one to add. Through research and users feedback, we made changes to the operation of adding FAV programs. Now, there have two ways to add FAV show.
One way is to add them directly when watching programs. Just press "OK" on the remote control board for more than two seconds, and the star☆ button for adding favorite programs will appear. Click the star★ to add to the FAV program.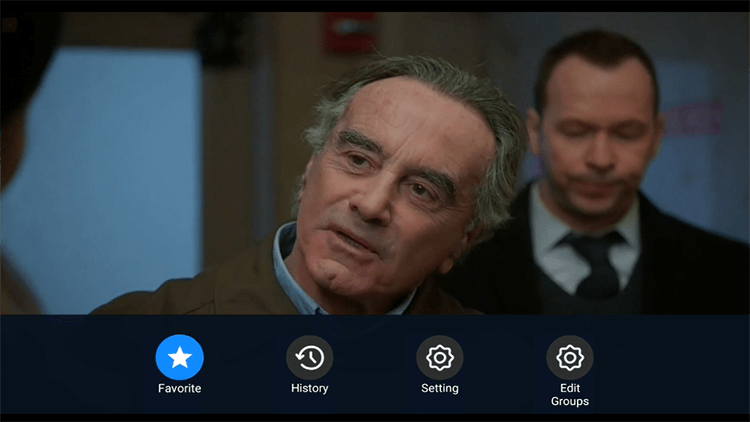 The second method is to improve on the original basis. Adding favorite programs from the setting side, now there has a group selection. For example, you can select the "Sports" group to find the programs you want to add to the FAV column, instead of looking for more than 1,000 channels one by one. You can also set groups in the FAV column. This is a really good improvement for users.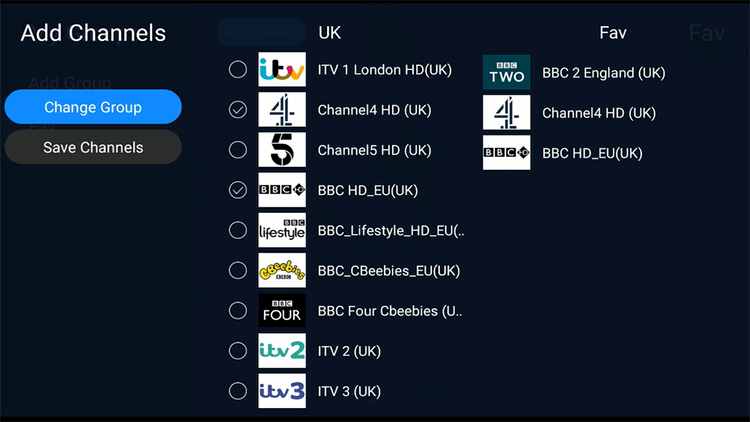 What's XtrixTV IPTV?
XtrixTV service is a High-Quality smart IPTV subscription provider with over 10 years of experience. We have a playlist of more than 1000+ Live channels in full HD and SD & VODS of updated movies and series. The streaming servers are efficient and stable which will ensure you better quality when watching channels & VOD in HD with zero Buffering. Furthermore, we offer 3 days free trial service before you purchase, totally FREE and with No credit card.
Quick To Know Some More About XtrixTV:
☛Stand-alone Android applications, can run on Android devices like Android Smart TV, Samsung Phone, PAD, Tablet, Android TV Box, Firestick, FireTV, Shield TV, NVIDIA SHIELD box, Formuler OTT, Formuler TV Box, Enigma2 DVB Box, and so on.
☛Most stable app server and engineer team over 10 years.
☛You Get Over 1000 Ordinary & Premium Channels Instantly with HD quality
☛You Get Over 3000 Movies & TV Shows (VOD).
☛Plus package with 7 days catch up and Cloud PVR
☛3 style EPG-Grid EPG, Classic EPG, and Normal EPG (Electronic Program Guide).
☛Solid IPTV Service, Without Buffering and Freezing (Stable Internet Required).
☛You Get a 100% Satisfaction Guarantee.
☛You Get 24/7 Customer Service.
☛Code sent to you instantly once order.
Conclusion
All in all, this time, the XtrixTV make the promotion has 14 days in total, and the deadline is 4 Jan. 2022. At the time of Christmas and New Year, wouldn't it be fun for a family to gather together to watch the IPTV show? Don't let slip such a golden opportunity. Okay, get an action to buy it.