With the rapid development of modern Internet technology, IPTV service has gradually come into people's vision, and gradually replaced the traditional cable TV. Due to the increased demand for IPTV services, a large number of service providers have emerged in the market. This makes it difficult for viewers to find the best IPTV provider. This article will help you understand the dynamics of IPTV and allow you to make informed decisions about how to choose IPTV service providers.
In short, the following factors need to be evaluated when deciding on which IPTV provider to choose:
☛ Device Compatibility
☛ Channels
☛ The IPTV Features and User Experience
☛ Content Quality and Buffering
☛ Cost ( Subscription Plan )
☛ VPN
OK, I will share the XtrixTV with you in detail through these aspects.
What Is XtrixTV IPTV?
Internet Protocol television (IPTV) is the delivery of television content over Internet Protocol (IP) networks. It is very popular nowadays because of its features that allow the subscribers to watch not only the TV shows on their favorite channels but also live broadcasts of their favorite shows, movies, live games like cricket, football, etc, and even watching backdated shows of one's favorite.
XtrixTV is a High-quality IPTV Smart subscription provider with many years of experience, they have a playlist of more than 1000 Live channels in full HD and SD & VODS of updated movies and series. XtrixTV IPTV servers are efficient and stable which will ensure you better quality when watching channels in HD with zero buffering.
The Features Of XtrixTV
● The most stable IPTV in the world, with no freezing and buffering channel
● Over 10years of Experience in Team Support!
● 1000+ Live channels, 3000+ Movies
● 7 Days Catch UP (Playback)
● Grid EPG, Classic EPG
● DIY Recording (Cloud PVR, saving in the server)
● For 2nd/3rd/4th devices, suggest using the Family Package, saving 60% OFF!
What Services Does XtrixTV IPTV Provided?
Before deciding to choose an IPTV provider, it is crucial to know what the provider offers. The XtrixTV IPTV offers services that include:
Live Television (Live TV): The service automatically produces and broadcasts television programs in sync with the occurrence and development of live events.
Video on Demand (VOD): This service allows you to access videos from the server media library at any time, like movies, TV series, sports, etc.
Recorded Video (REC): This service allows you to record your favorite TV shows, movies, and live sports events 20 files/40hours in total.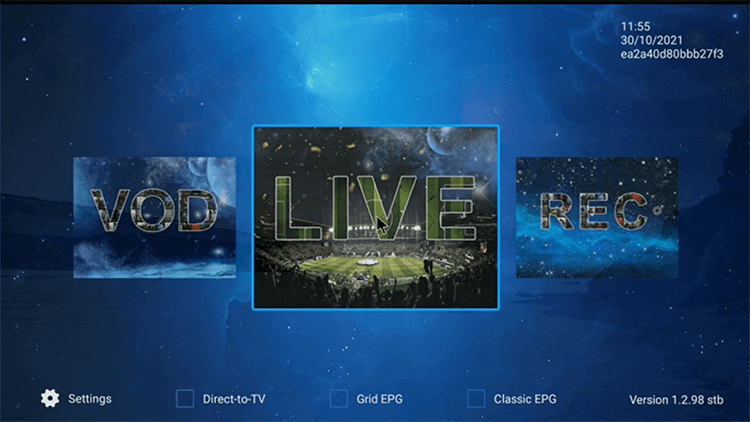 What Is The Device Compatibility Of XtrixTV IPTV?
Most IPTV service providers use apps to stream content. A number of providers may stream only using a smart TV or PC with an internet connection. Personally, I like the XtrixTV IPTV because they offer to play content on multiple devices simultaneously. If you have a family, it's the best choice. It enables everyone to access and watch shows of their choice on their tablet or phone.
What Devices Can XtrixTV Be Installed On?
XtrixTV IPTV can run on Android devices like Android Smart TV, Samsung Phone, PAD, Tablet, Android TV Box, Firestick, FireTV, Shield TV, NVIDIA SHIELD box, Formuler OTT, Formuler TV Box, Enigma2 DVB Box, and so on.
How To Download And Install On The Device?
For the APK download, you can download it from the XtrixTV website directly. (need register firstly).
Or contact them for a direct download link.
Please check what's your device model, then download the correct version APK.
The XtrixTV APK is compatible with Android TV Box, Android Mobile Phone, PAD, and other android devices.
(1)For Android TV Box/OTT, Firestick, FireTv, Nvidia shield please install the STB version SPK.
XtrixTV App(Blue)

: https://www.iptvapkdownload.com/app/stbxtv

XtrixTV Plus App(Red)

: https://www.iptvapkdownload.com/app/stbxtvp

XtrixTV Plus Sub-Device App

: https://www.iptvapkdownload.com/app/substb
(2)For Android Mobile Phone or Android PAD, please install the PAD version APK.
XtrixTV App(Blue)

: https://www.iptvapkdownload.com/app/padxtv

XtrixTV Plus App(Red)

: https://www.iptvapkdownload.com/app/padxtvp

XtrixTV Plus Sub-Device App

: https://www.iptvapkdownload.com/app/subpad
(3)For the Enigma2 device, please contact the service for a special ipk.
What Channels Does XtrixTV IPTV Offer?
The XtrixTV offers global channels, categorized by country, including news, entertainment, sports, PPV, and other live channels, including the UK, Italy, Australia, Holland, Germany, Greece, Spain, etc.
In addition, it also offers video-on-demand capabilities. So then you don't need to go to other platforms to watch the most popular and popular movies and TV shows.
What's more, you can watch live matches of the English Premier League(EPL), Football League Championship, World Cup, European Football League(EFL), etc. And you can replay some history sports matches.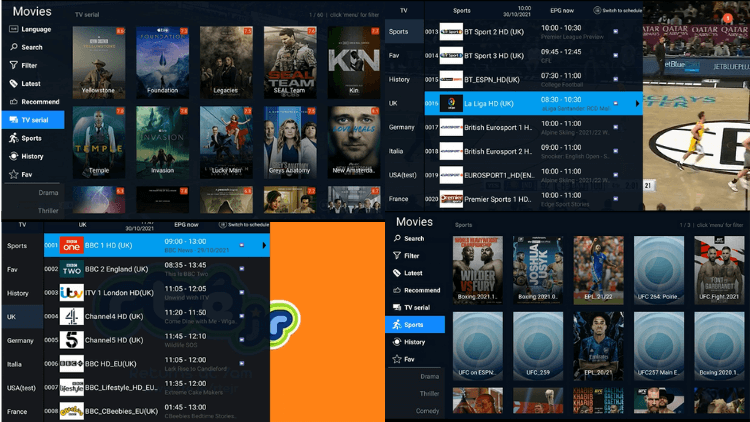 Content Quality And Buffering Of XtrixTV
Who doesn't like to get value for their money? We both know the answer to that question. In this part, we look at the quality of the picture and sound. As for me, I have used their service the system has never been down always is super quick, and always looks and sounds really great. And I always watch TV with an internet speed which is above 4Mbps(4Mbps for download and around 1Mbps for upload). At this speed, the streaming of XtrixTV is very stable with no freezing and buffering channels. But no matter what I said, it's better to experience it by yourself.
3 Day Free Trial
The XtrixTV offers a 3-day free trial service, which lets the user check the quality of sound and picture of the channel before they decide to buy the subscription. Here are the steps I have got a free trial.
#1, Register and login to your XtrixTV Store account.
#2, Click the "Subscription" button on the home page, then you can find the 3-day trial button. Please choose the version of the free trial you want.
Note: Each category – XtrixTV IPTV, XtrixTV Plus IPTV, and XtrixTV Plus IPTV Sub-devices has a 3-day trial link directly below the category name.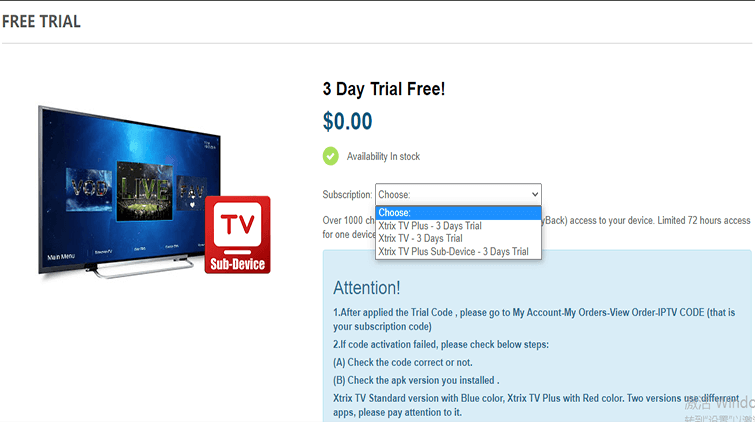 #3, Fill in your information as required to get the free trial or subscription. If you just want to get a free trial, you will not need to fill in your credit card information. But if you want to purchase a subscription service, you need to create an XtrixTV account to purchase it.
#4, When your order is submitted, the system will send the IPTV subscription activation code to your email and your store account. Please find the code in My account-My order-IPTV CODE.
What's more, XtrixTV has an option for subtitles. It provides a number of language options for the user. Users can not only choose their favorite language subtitles but also set the default language, which really gives users a very good viewing experience.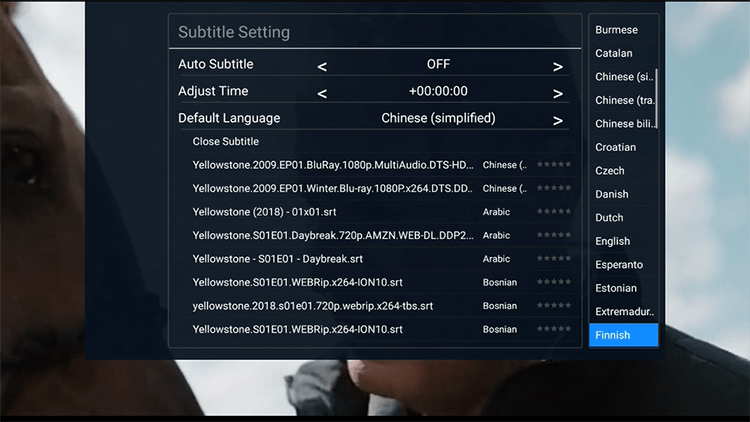 The IPTV Features And User Experience
When choosing an IPTV service provider, its attach features are important, which can give the users a better user experience. I found XtrixTV really to be a great IPTV service and I was pleasantly surprised by some of its features. Well! I'm going to share the features of XtrixTV with you as below.
7 Day Catch Up (Playback)
As we know, Catchup TV costs a huge amount for IPTV providers because for every Live channel they offer to catch up on, they then have to record every program going back however many days they offer their catchup tv service. This is why so very few internet TV companies offer catch-up, or if they do, they only offer up to 48 hours /2 days of catch-up programs.
But the XtrixTV offers a 7 days catch up function, it's very good news for the user. With 7 days catch-up, the user doesn't need to get up at midnight for their favorite channels anymore.
• 7 Day Catch Up – Lots of channels have the ability to be able to watch any show aired in the last 7 days (I use this so I don't have to get up at 2 am to watch a live event that may be in UK or USA)
• Many of our channels are in true HD providing superb picture quality and most channels have 7day catch-up so you'll never have to miss your favorite program again!!
• You've just realized that the big finale of the TV series you've been watching for the last 2 weeks, you missed it! …or that soap, at last, had a decent interesting storyline enough to hold your attention to want to know who did it, and then, aaargh you were at the shops and forgot to record it! Don't panic, IPTV Catchup is a great service available to you that some internet TV providers offer that gives you the chance to go back in time to Live programs that get automatically recorded for you.
The following information tells you how to use 7 days catch-up.
1, First, open a live channel with video marker
2, And then right-click to confirm the EPG
3, You can choose the playback time period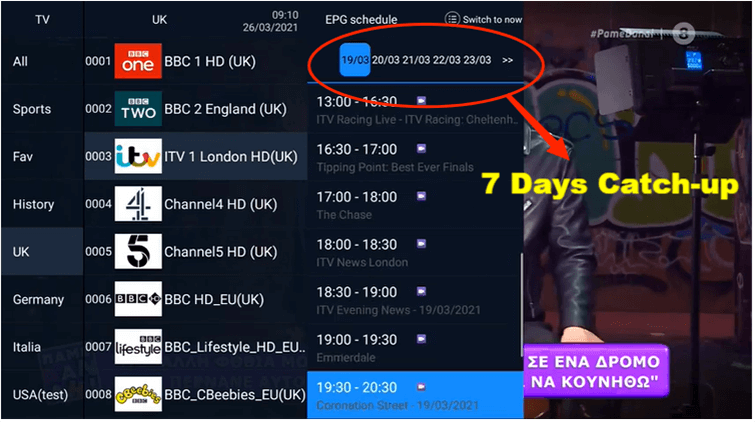 Cloud PVR
Recording a program from live TV channels is a very common action for television viewers. I've already used XtrixTV's cloud PVR feature, which is great because it lets me record 20 files/40hours of my favorite videos and I can watch the recorded video anywhere. Here are the advantages of cloud PVR.
① All recorded videos will be saved on the server and will not take up space on your device. So you can watch the recorded video at any time and anywhere.
② Can record multi-channel simultaneously. For example, users can watch sport live channels and record UK, GR, DE channels at the same time.
③ Can set a record timer for a future event, the server will record the video on time.
④ Can record events of the past 7 days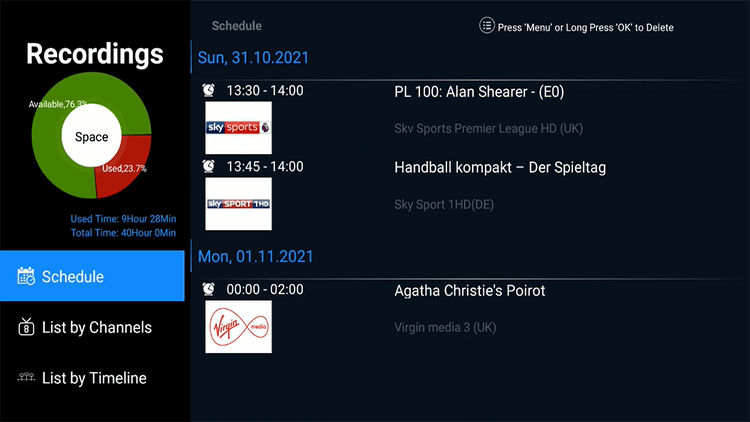 EPG Style
In the process of using XtrixTV, I found that they offer three kinds of EPG, Normal EPG, Classic EPG, and Grid EPG, and provide electronic program guides for many channels. This really makes me happy because a lot of suppliers are there asking for money to buy EPG. You can choose EPG according to your own style of use.
After-Sale Service
The XtrixTV after-sales service is perfect, not only is the timely response, but all kinds of technical support are also great. Once, I bought a subscription that did not match the installed version of the device, so I could not watch the video. I tried to contact their after-sales service, and they are very fast and professional to help me solve the problem, no more than three minutes. It feels really awesome. I used other IPTV services before xtrixTV and they took me about a week to fix the problem. XtrixTV is really the best IPTV provider with the after-sale service I have encountered so far.
Cost (Subscription Plan)
Subscription price plays a major role when making a choice of your IPTV provider with some offering different plans at different prices. For the features and add-ons that XtrixTV has, it really has an affordable price. They have three versions of the subscription service, XtrixTV(blue), XtrixTV Plus(red), XtrixTV Plus Sub-device. Plus version and Plus Sub-device are in the same channels and function. But the standard and Plus are different. The following are the details for your reference.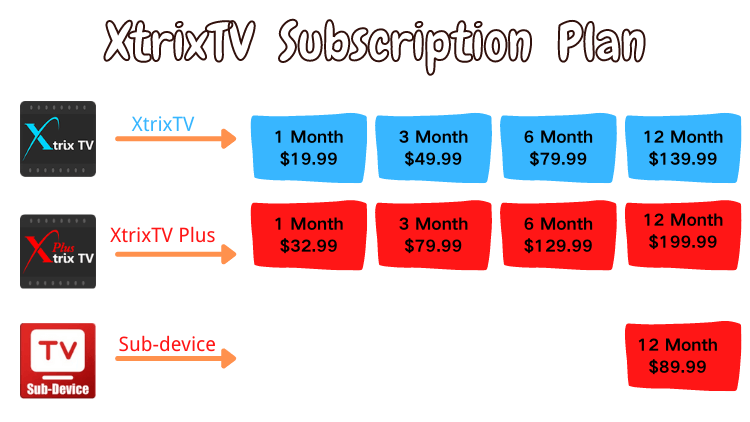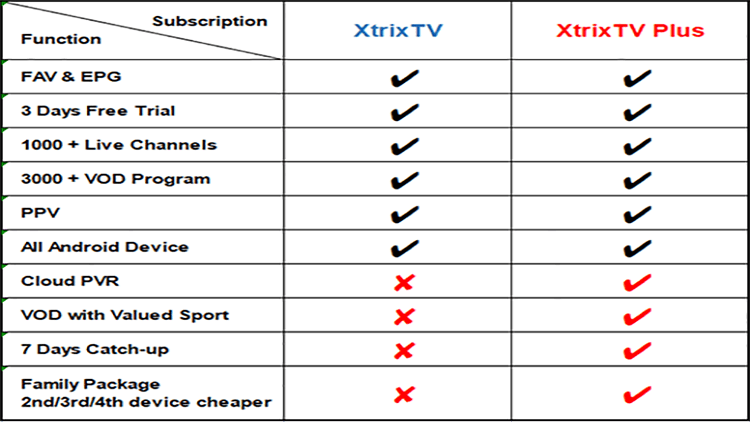 Family Package
Considering that some families have multiple devices, such as living room, bedroom, and mobile phone, all want to use IPTV service, the XtrixTV launched a Family Package for this user. It can help you save 60% on your IPTV subscription, and you can enjoy the same show on all devices wherever.
To ensure server stability, the XtrixTV implements a "one code is only for one device" solution.
Because I have three devices at home that all want to use IPTV, I choose to buy the family package. It really let me save a lot.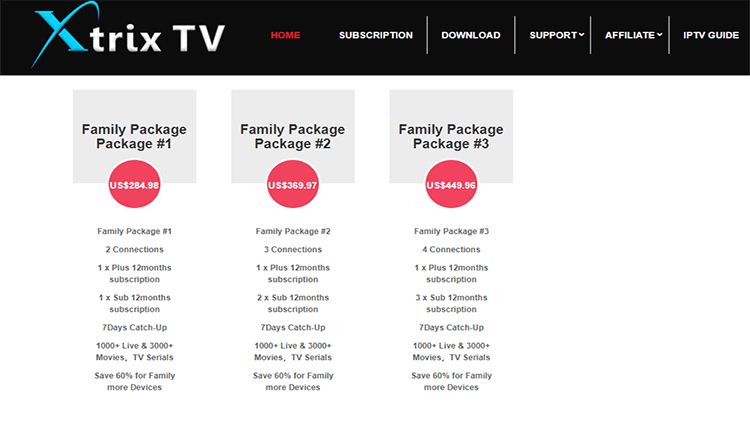 Does XtrixTV Need To Use
VPN
You can use VPN or not, both are OK.
With the rise of IPTV streaming taking over the older ways of satellite boxed and cable boxes VPNs have been running alongside offering great benefits to IPTV users that cover extra performance and privacy as opposed to not using a VPN.
One of the main issues we currently see in the IPTV market is internet providers being forced to live block IPTV servers when there is a football game on. This has a big impact if your IPTV providers get blocked as the block can last for over 4 hours and you miss the game you have been waiting to watch.
Luckily XtrixTV IPTV does not have this issue so you don't need to use a VPN at all but sometimes it may be more beneficial to use one to make sure you are getting the best performance without any ISP bandwidth throttling which they can sometimes do.
Conclusion
In short, through this post to share my experience, I hope it can help you to know more about XtrixTV. If you are looking for an IPTV service, XtrixTV should be your first choice. Remember it is always advisable to get a free trial before making the final decision. Happy Viewing!